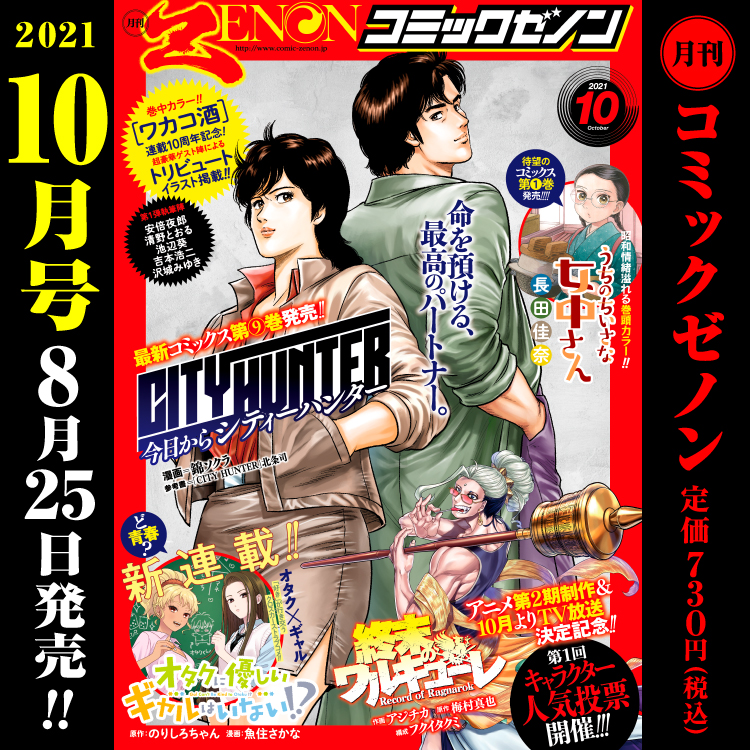 The January 8 issue of Monthly Comic Zenon was released on Wednesday, November 25th.
[Highlights of the September issue of Monthly Comic Zenon]
1. Since AprilThe first TV broadcast of anime has started !!The latest story of "Record of Ragnarok", which has also been decided to be produced in the second phase, is posted! The first character popularity vote will also be held!
The god-side representative, Zerofuku, has transformed into a legendary monster, Hajun, who has half-destroyed the underworld.
The constant slashing robs the left eye of the human representative, Buddha, and drives him into further inferiority.
Buddha was told that Reifuku had died from the beginning of the season.
His hatred weapon changed violently, and the mystery "Karma Reincarnation" was unleashed ...Ragnarok Round 6, Kakai!
In addition, the first character popularity vote will be held to commemorate the second production of the anime and the decision to broadcast on TV from October.Thirteen applicants will be selected by lottery to receive a work appearance right to draw themselves as a spectator and a ticket to watch Ragnarok!
2. Color in the volume & 2 episodes posted!New series "There is no otaku-friendly gal !?"
Seo is a high school student who loves anime for girls.
Suddenly, I realized that Amane, a cool beauty in the same class, was also a "similar person" ...
A new series that depicts the interaction between otaku and gals, 42 pages in total!
Click here for the reader survey
Monthly Comic Zenon September 2021
List price: 730 yen (tax included)
Editing / Publishing / Release: Coamix