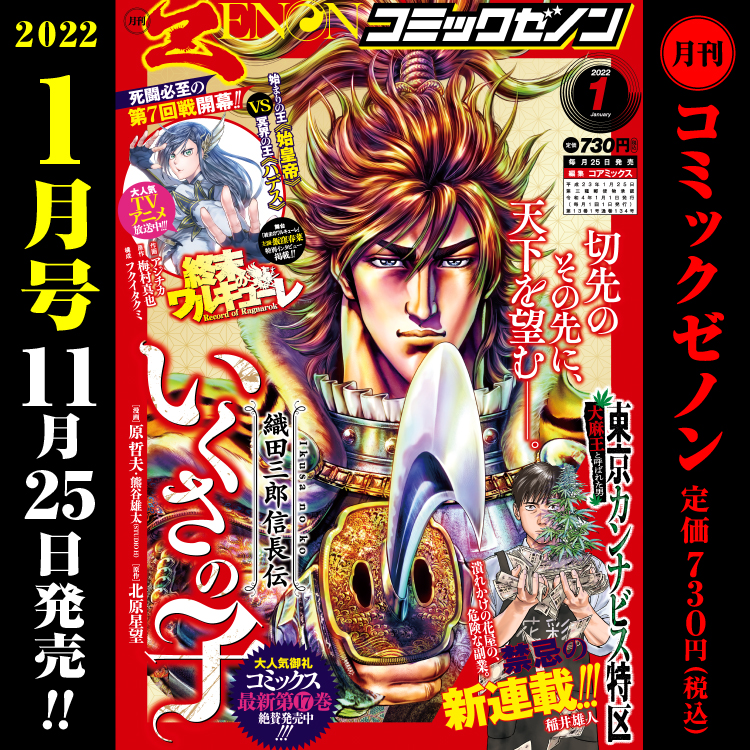 The April 11 issue of Monthly Comic Zenon was released on Thursday, February 25th.
[Highlights of the September issue of Monthly Comic Zenon]
1. Stage! A special interview with Haruna Iikubo, who plays the role of Brynhildr in "Record of Ragnarok"!With gift application ticket!
The 7th round of Ragnarok is a confrontation between Hades, the king of the underworld, and Qin Shi Huang!Hades, who lost his younger brother Poseidon in the third round, stands in the arena with Poseidon's weapon, Trident, to avenge him.
Qin Shi Huang, on the other hand, behaves like a guiltless, but has a mysterious mask.The king and the king's summit decisive battle begins!
An interview with Mr. Iikubo, who plays the role of Brynhildr, on the stage of the performance from November 11th to December 27th is also posted.With autographed check application ticket!
2.New serialization! "Tokyo Cannabis Special Zone" The story of the legendary cannabis king begins!
Morio Chito, 41, lives with his wife and daughter in T city near Tokyo.I opened my dream flower shop, but my business is in the red and my life is difficult.
Information about the university alumni association arrives at Sento ....
Later, a reunion of a man called "Cannabis King" will be drawn, which will be a turning point in his life!
3.The cover is Tetsuo Hara's "Ikusako-Saburo Oda Nobunagaden-" released in the latest 17th volume.
Nobunaga Oda, who unified Owari, went to Kyoto at the invitation of Shogun Yoshiteru Ashikaga.As soon as Joraku, the thugs released by Yoshitatsu Saito of Mino are revenge.
Yoshiteru deepens his interest in Nobunaga's actions.At the audience, Nobunaga declares that he will defeat Yoshimoto Imagawa!
Click here for the reader survey
Monthly Comic Zenon September 2022
List price: 730 yen (tax included)
Editing / Publishing / Release: Coamix