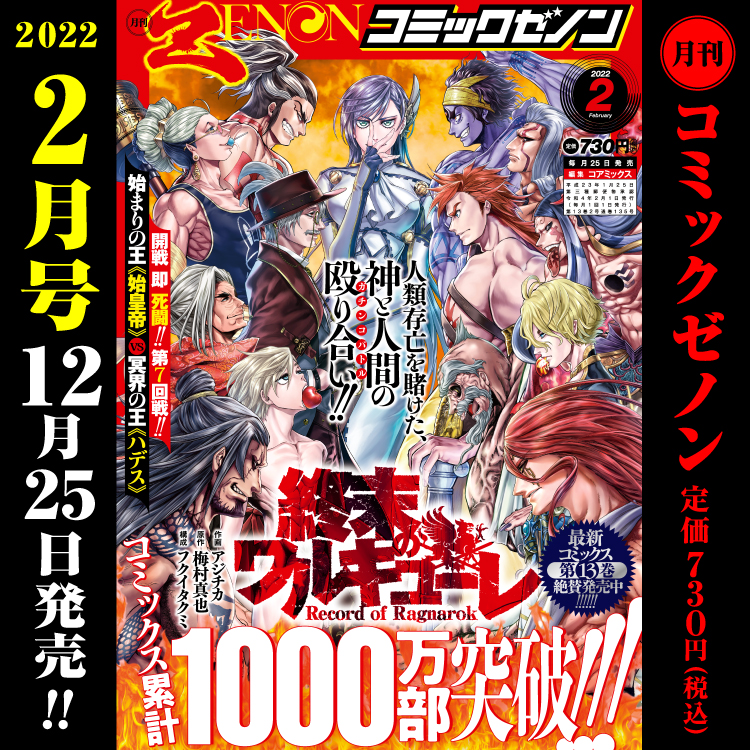 The June 12 issue of Monthly Comic Zenon was released on Saturday, April 25th.
[Highlights of the September issue of Monthly Comic Zenon]
13 The latest 1,000th volume has been released and the cumulative total has exceeded XNUMX million copies!
 "Record of Ragnarok of the End" King of the Underworld vs. Qin Shi Huang, the summit decisive battle incandescent!
The XNUMXth round of the blockbuster "Record of Ragnarok" Ragnarok is King VS King!
The 7th round where Hades, the king of the underworld, and Qin Shi Huang confront each other.
Qin Shi Huang, the representative of humankind, defeats the legendary genie Chiyou.
The story of becoming the "King of the Beginning" is depicted.
XNUMX Two episodes of "Tokyo Cannabis Special Zone" depicting the legendary cannabis king are posted!
Morio, a flower shop, is revealed by his best friend who reunited with him that he earns money by smuggling cannabis.
Morio is expected to grow plants and is asked to grow them.
I refused, but I can't get rid of cannabis.
One day, a cannabis seed that my best friend secretly put in a bag fell in front of a policeman ...
XNUMX The first color is "The End of the Walkure Ibun Ryofu Hoshoden"
Participated in the first round of "Record of Ragnarok" Ragnarok as a representative of humankind
The first color is a spin-off work that depicts the life of the battle of Lu Bu, the hero of the Three Kingdoms.
From this month's issue, a new chapter, Rome, will open!
Click here for the reader survey
Monthly Comic Zenon September 2022
List price: 730 yen (tax included)
Editing / Publishing / Release: Coamix