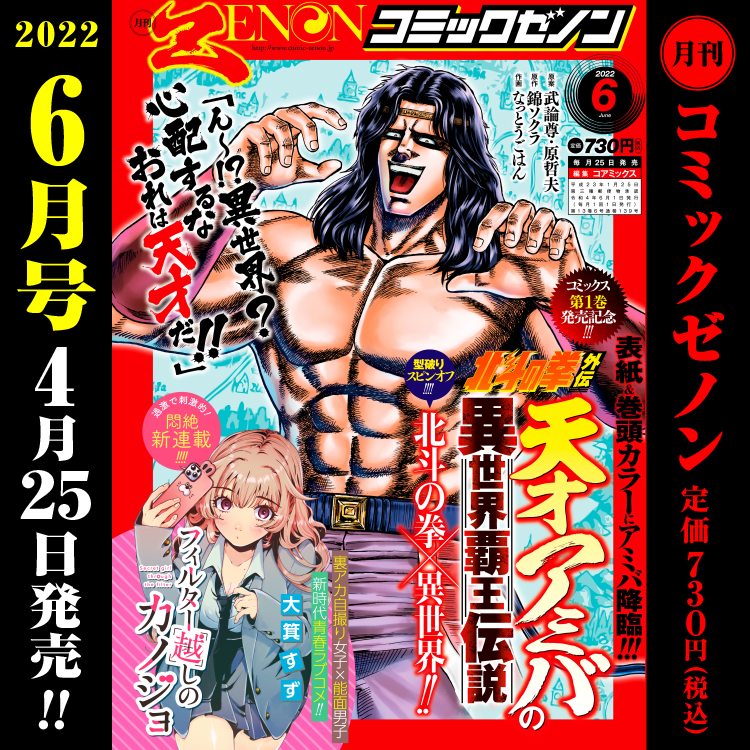 The September 4 issue of Monthly Comic Zenon was released on Monday, July 25th.
[Highlights of the September issue of Monthly Comic Zenon]
1,New serialization!Omi Suzu "Kanojo through the filter" is in the middle color!
Suzu Omi, a noted writer who has worked on a new perspective of school romantic comedy, such as the girls who are out of yang in "Koi Hakusemono" and the shy boys in the brain of "Jitsujo !! Izumi-kun's love pattern".The long-awaited new serialization is published in color in the June issue of Monthly Comic Zenon! Hakobe, an expressionless high school boy with the nickname "Noh mask", has a hobby of checking the H images of the star Efa in the selfie world on SNS.One day, he collides with his longing classmate, Koto Mitsuha, on the stairs and discovers astonishment!
2,Over 1,000 million copies! "Record of Ragnarok" is a gorgeous double-barrel!
The tense Ragnarok XNUMXth round, where the "King and King" summit confrontation continues.The counterattack of Hades, the king of the underworld, overwhelms Qin Shi Huang.The amazing battle history of Hades, which is awe-inspired by the gods, and the secret of its strength are revealed!
3,"Fist of the North Star" x another world!The shocking spin-off comedy is the first color!
To commemorate the release of the comic, that masterpiece spin-off comedy "Fist of the North Star Gaiden Genius Amiba's Legend of the Dark King" is on the cover and in the beginning color!In front of Amiba, who reincarnated and enjoys a different world life, a person similar to Toki ...Premonition of turbulence!
Click here for the reader survey
Monthly Comic Zenon September 2022
List price: 730 yen (tax included)
Editing / Publishing / Release: Coamix